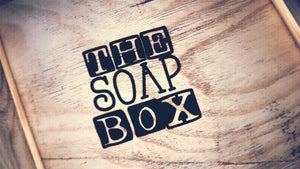 The SoapBox - Episode 2: Less Better
Listen as these two moms of the Midwest attempt to shake the tree a bit and talk lifestyle upgrades through LESS. BETTER.
We are finding their footing here.... and we are busy figuring out our focus, our format, and how the hell the use our equipment!  We misspeak, we belch, and the cats jump in the middle of table (again) while we TRY to get on our Soap Box :)
Please hang with us through our learning curve and let's find our common humanity through this journey.
We wanted to take some time to introduce ourselves to you

:
Shannon and Emily are from Oregonia SoapWorks and The Caldarium (in Lebanon, Ohio), our factory store and manufacturing location of our natural line of skin, hair, and home care products. 
* Emily is a former educator, current mom of two, community arts organizer, lifestyle creative, fierce can do-er and a volunteer burnout.  She manages The Caldarium, assists in community betterment activities and is now the producer of The SoapBox podcast for Oregonia SoapWorks.
* Shannon is a land locked former Sea Turtle Biologist who studied Marine Biology and Environmental Science.  She proudly prioritizes being a mother of two daughters and wife to her husband Jesse, while juggling entrepreneurship as the owner of Oregonia SoapWorks and The Caldarium, as well as part owner of two other companies.  She focuses on environmental and community activism and is the primary maker of all Oregonia SoapWorks products.  
We would like to Thank Tim, Emily's husband for his extensive technical support and faith in our abilities.
We would like to thank Jesse, The Original Gansta Chemist that enabled his wife, Shannon to head down this path of learning how to make great products.  His unwavering support allowed this whole adventure to happen. 
In other words... Jesse, its all your fault :)
***Want to know more about our products?
Check out our collections here
---