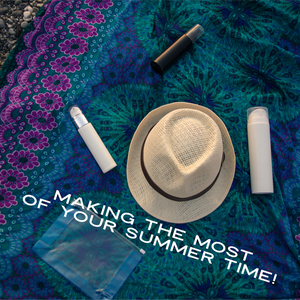 Make the most of your Summer Time
 As summer has gone into full swing, it already appears to be flying by.  Most times, we don't even know where it goes.  We have put together some ways to navigate summer, while also making the most of it.
* Rest, Sleep, and Unwind
Whether vacationing or not, allow the free time for your brain to settle into the calmness it needs to wander and spark creativity,  Schedule stillness and downtime into your summer lifestyle.  You never know what summer ideas will spark those fall adventures.
* Soak up Nature
 The season allows great opportunity to disconnect from technology and look up and around us.  We have a strategically placed bird feeder that brings us hours of bird watching without ever having to leave the house.  Find those small moments to spend outside.  Take a morning or evening walk around your neighborhood, dig in the dirt and pick weeds, find time to bathe in the meditative rustling of a nearby forest.  Enjoying the warmth that summer brings does not have to be complicated.
* Eat your Health
Summer meals in our house become simple, an almost random assembly of side dishes based on what is in season, fresh and available locally.  It's a great time to explore those farmers markets and connect with local growers and learn how to eat seasonally, which we all know makes our diet much more mineral and nutrient rich.  I learn so much each summer on how to prepare things I've never cooked before.
* Connect Socially 
Get your post COVID gatherings on.  Don't stress over planning large dinner parties if it's too much.  Meet for some coffee or to take a walk, gather for trivia night, or even schedule a grocery trip at the same time.  Taking time to see one another does not have to be a fussy affair.  We are all busy and I love when my friends reach out for a simply, quick gathering that I can easily work into the schedule.  These interactions are important and can be equally as simple.
* Hydrate
If you are busy loading up on your diuretics, like coffee and alcohol, remember that our bodies are in a constant state of water loss and these drink choices make it so much harder on our bodies.  Be mindful that water intake is extremely important for our body to exist in a state of healing.  As an extra note, be good to your summer skin and take advantage of showering with cooler water to keep hydration loss through skin at a minimum.  Get your water on!
* Sweat - Sweating is our bodies way of not only keeping us cool, but eliminating built up toxins.  We are supposed to sweat.  The more your body is allowed to sweat, the more efficient and cleaner our systems runs.  It also triggers fat burning - so don't block your body from it.  Find time to just go for it - play, work, move - and don't sweat the sweat!
* Protect Your Skin
Of course we obsess over skin!  But at the time of the year when our skin is most exposed to the elements, we have to be mindful.  I consider my exposure to the sun so, SO much more now than in my youth.  The tricks I have adopted to protect my skin from premature aging and cancer is to cover up with hats, loose fitting clothes, and sunglasses (SO important in protecting your eyes from developing cataracts). Don't underestimate the need to seek shade - especially during the hours of 10-4 when the sun is most potent. Also, learn to love the skin you're in and don't feel pressure to tan your skin into damage.  My own mom is now dealing with having to get skin cancer removed after years of excessive sun exposure.  Remember that sun damage accumulates and our sun exposure management now is the gift we can give our future selves.  So cover up, seek shade, and use non-chemical sunscreens like our mineral based sun protectant.  Another way to reduce toxin exposure (and bioaccumulation) while also protecting your skin is with effective, natural bug repellents. Warm weather harbors insects like mosquitos and ticks whose bites not only drive you crazy itching (BTW- we got you covered with our anti-itch products, bug bite relief and IvyRelief), but they also can spread serious diseases like Zika, West Nile, Rocky Mountain Spotted Fever and even Lyme Disease.  An ounce of prevention really is worth a pound of cure.
Summer time is party time - its travel time and family time.  And we all want a summer time 'where the living's easy'.  Let's make it all it can be!
Stay safe and don't let it slip by without enjoying it :)
                                                                      Peace and sun-kissed smiles to all,
                                                                      Shannon
---