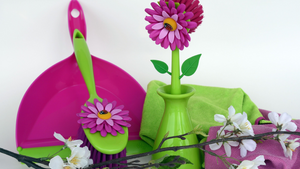 Toxic-Free Spring Cleaning
Spring is always a time where we emerge from the cold winter into the outdoors.  Whether it's a social cue, or some primitive biologic drive, we tend to take this time to assess our nests.  Our motivation to clean and organize our spaces peaks during this time of year as we welcome in the sunshine and fresh air with the highest hopes for the upcoming season.
Spring is a great time to create new habits and intentions and a perfect time to walk a new path.  We think it's a great time to combine the desire to clean and create new habits and introduce to you our mission to really focus on bringing you our 'Healthy HomeWorks' initiative for this year.  Our company has really focused on skincare since its inception, but we know that more options are still needed for our homes.  We plan to unfold an assortment of new products this year with this goal in mind.
Still love those smells of cleaning products?  I get it, but fight the urge to believe that those scents mean clean.  Many of those smells actually mean toxic, harsh chemicals, are actually contaminating our water sources, polluting your breathing conditions and are contributing to not only unhealthy air quality, but the continued bioaccumulation of body toxins.  Our bodies try to fight off toxicity throughout our lifetime, but many of them accumulate in our systems and never get released and just continue to build up.  Eventually, our bodies become overwhelmed by these chemicals and we become sick.  If you want to preserve your future health, you have to fight against this exposure and kick those old habits.  You only get one chance at this life's body. Find your way into a new way by limiting toxic cleaning products and exchange them with new non toxic products this year.  Retrain your brain and drive yourself into new habits that will become your children's new normal.  Who's gonna break the cycle?  You are!! 
During these past winter months, the closed in environment starts to feel suffocating and maintaining healthy indoor air quality gets difficult.  One of the great ways to freshen up indoor spaces is to open those windows whenever you can.  If you have indoor plants - take them for a walk outside (ok - not literally) on warm days - they can suffer in winter homes too.  If you don't have indoor plants, you should consider some.  Keeping indoor plants not only adds charm to your home, but these plants work for you to filter out Carbon dioxide and improve air quality and oxygen levels.
And when the urge to clean and organize hits you (OH! It will!), remember to break out the vinegar and think about replacing those other toxic surfactants and detergents with better products for you and our planet.  If you are looking for great options, check out our growing assortment of Oregonia SoapWorks 'Healthy HomeWorks' products here, including laundry and household cleaning items.  Happy Spring Everyone!
May the grace that winter bestowed onto you, bring bountiful gratitude for this season of renewal.
Peace and Love,
The Chemist's Wife
---