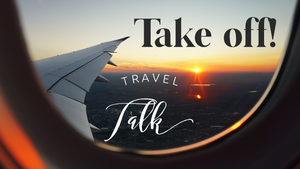 Take Off! Travel Talk
The traveling season is upon us!  It's an important reminder to us that the practice of taking breaks from our normalcy is part of what gives us the continued energy for a lifetime of momentum.  The ability and time taken to travel gives our lives color and our minds perspective.  Expanding our horizons allows for greater creativity and tolerances that ultimately positively impact our home communities as well.
We love traveling and want you to love it too, but sometimes the preparation feels like a grueling task.  Here are some simple and easy travel hacks to implement to make packing and traveling simpler.
(1) Grab and Go!
Always have a grab bag on hand for quick trips that can be easily added to a weekend bag or added into a larger suit case. Having a bag set up with travel size toiletries items, tooth brush and paste, sunscreen, bug sprays, deodorant, hair brush and other back up travel sized options ready to go so that you can just add the things you use everyday to make packing easier and faster.  Here is the hand crafted toiletry bag from Finn's Fickle Goods that I always have ready to go.
(2) Check it - Don't Forget it!
Create a reusable (laminated is awesome) self made travel check list to keep with your travel gear.  Make a list of your standard 'must haves' like underwear and socks with an optional section of things to include other items such as passport, copy of auto insurance, or medication.  This allows for you to easily verify if you have everything you need without too much stress.
(3) Stuff it!
When packing, Stuff the small things like jewelry or rolled socks into shoes and hats to make use of the voids in your packing space. 
(4) Roll or Fold??
Roll it - Hands down!!!  Rolling your clothes allows for a tighter pack, but also a way to keep clothes nicer and wrinkle free. (no hate mail - I'm right on this one)
(5) Packing Cubes??
I'm trying it this year - check out this new (to me) way of organizing your travel items while also being able to compress your belongings further to minimize lost space in your packs.
(5) Eliminate the 'peek for leaks' practice after a flight.
The air pressure in plane travel or just general jostling of luggage can often cause toiletry items to leak and soak into your other items.  Safeguard each of your containers with leak proof plastic film. Pack those together in zip locked bags to help prevent the kind of damage and product loss that we've all experienced.  
(6) Hydrate as you go.
I love clip-on water bottles.  It's a great idea to attach on of these onto you travel gear.  Even if your vessel is full as you enter through the airport security screening, you can empty it and refill after you enter the secure zone.  Either way you are traveling, having your own water bottle is not only eco friendly, but will keep you hydrated on your adventure.
(7) Bulk up!
When it comes to packing your clothes, bring only what you really will wear - no what ifs.  Less is better and work to make ensembles that can switch with the setting or temperature fluctuations.  When packing these items, pull out the biggest space eaters of your wardrobe, like coats or boots and wear them on your travels or on your flight to free up that space in your luggage.
(8) 3-1-1 Rule
The popularity of carry on luggage has exploded and so too ways to optimize those small spaces based on the increased cost of checked baggage.  If you're like me, I forget the security rules of flying each and every time.  All liquids, gels. and aerosols toiletry items must be packaged in containers no larger than 3.4 oz.  For each 1 passenger, they are allowed 1 quart zip locked bag full of these containers.
This summer 2021, we will be featuring so many great travel sized options to stock that weekender bag. Keep in mind that bar soaps don't count in your quart bag, making solid soap bars, particularly hair bars a great option while traveling option and can be used as an all-in-one hair, face and body option.  Here are Check out the seasonal options here. 
For a selections of 3-1-1 compliant products options and our most popular summertime vacation necessities at any time of the year, search 'travel'  in the query bar and as always check our seasonal selections here.
Wishing you all easy packing and happy trails this summer.  As for me....
Gone Fish'n,
Shannon
---